What Is the Virtual Entry Assessment CS (477)?
The Postal Exam 477, aka VEA – CS (477), is an assessment used to screen candidates for the Customer Service Clerk job. This assessment is one of the four new Post Office tests that replaced the old 473 test. As of November 2021, four new sections were added to the 477 assessment.
Note: The test is online and can be taken via your smartphone, tablet or computer with an internet connection. But know that using a computer is recommended. Candidates have reported some technical issues using other devices.
For more information about the new exams, including the CS (477), check out this video: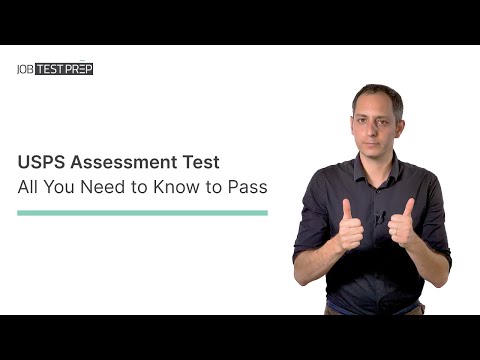 USPS Customer Service Clerk Exam Sections
Once you start the Postal Exam 477 you will find seven different sections:
Work Situations
Work Your Register
Tell Us Your Story
Describe Your Approach
Help Your Customers
Verify Customer Information
What Drives You
Three of the sections are brand new and were added only in late 2021. JobTestPrep is the only site that offers accurate practice for these additional new sections.
Here's a breakdown of the assessment:
| | |
| --- | --- |
| Section Name | Number of Questions |
| Work Situations | 22 |
| Work Your Register | 3 |
| Tell Us Your Story | 39 |
| Describe Your Approach | 139 |
| Help Your Customers | 14 |
| Verify Customer Information | 10 |
| What Drives You | 25 |
Let's dive into each of the sections and understand the question types.
Work Situations
As a Customer Service Clerk, you are the face of the USPS. You are the one the public interacts with the most. The USPS wants to make sure that you know how to be a good server, which is exactly what this section is all about.
In every question you will be presented by a situation and four different actions you might take. Your task is to mark which action you will be most likely to take AND which is the least likely.
Note: USPS employees have said that the situations presented in this exam are really very similar to what they face every day. If you want a glimpse of what your day will look like, pay close attention.
The questions here might be very tricky. As a customer yourself, you probably already know that it is not always black and white.
Try figuring out what you would do in the next scenario.
Work your register
In this section, you will be presented with one of the aspects of the job – using the register. The USPS wants to make sure you can use it fast, accurately, and efficiently. In each question, you will be told how much the total amount is, how much the customer payed and what change is due back. You would then have to mark the fewest amount of bills and coins possible to make the exact change.
Note: The USPS will know how long you've spent on each and every question! They might be scoring you by how fast you can complete this important task.
Try one for yourself.
Postal Exam CS (477) Sample question – Work Your Register:
Use the fewest number of bills and coins possible to make the exact change.
Total amount: $53.82
Amount paid: $60.25
Change due: $6.43
Tell Us Your Story
This section lets the USPS know a little bit more about your professional background. Although it seems like a walk in the park, you actually can get this section wrong. Again, a lot of gray areas here.
Check out this question to see how confusing this might be.
Postal Exam CS (477) Sample question – Tell Us Your Story:
If contacted, how would your recent supervisor describe your customer service skills compared to other team members?
The very best
Among the best
Above average
Average
Needing some development
Needing substantial development
These questions are far from being technical and straightforward. You need to know what stands behind them to get it right.
To better understand how to answer correctly, use our full guide included in the PrepPack.
Describe Your Approach
This section is all about your personality. You should answer this one honestly, no? Well, yes, but not quite. The questions here are a bit vague and basically, test your consistency and your personality traits.
Note: The right answer is the one that emphasizes the traits that are most suitable for this specific job. It would help if you had that in mind while answering each and every question.
Take a look at this sample question for a better understanding.
Postal Exam CS (477) Sample question – Describe Your Approach:
Please indicate to which extent you agree or disagree with the following statement.
a) I enjoy theoretical discussions and thinking about abstract concepts.
b) Thinking too hard about a problem frustrates me.
Most like (b)
Somewhat like (b)
Somewhat like (a)
Most like (a)
As you've seen all along, this section as well is confusing. If you want to know how to answer this kind of questions, use the full guides in our PrepPack.

Help Your Customers
In this section, you'll have the chance to try your hand at solving problems similar to the ones Customer Service Clerks encounter daily.
Check this sample question, which highly resembles some of the easier questions you'll see on the actual assessment:
| | | | |
| --- | --- | --- | --- |
| Product | Quantity | Price | Discount |
| U.S. Flag Stamps | 20 | $10 | None |
| Baseball Stamps | 40 | $20 | None |
| Featured Stamps | 40 | $20 | None |
| Football Stamps | 20 | $10 | None |
| Assorted Greeting Cards | 3 | $10 | 20% Off |
| Flower Postcards | 20 | $16 | None |
| Shipping Tape | 2 | $8 | 10% Off |
A customer wants 6 Assorted Greeting Cards. What will his total cost be before taxes?

Verify Customer Information
In this section, you'll be presented with information about people: their name, their old address, and their new address. In every question, you'll be required to compare 4 information details and decide whether they are identical or not.
See how it looks in the practice pack:
What Drives You
This section is a motivation test that is designed to reveal what fulfills you in your workplace. Each question is meant to assess the level you relate to two different sources of motivation; therefore, you may encounter the same motivation sources in various questions.
Now that you know what to expect from the test, it is time to figure out all about the scoring.
---
Why Bother Getting a REALLY High Score in the USPS Test and How?
As I've said earlier, you need to score at least 70 to pass the Virtual Entry Assessment – CS (477). But as we have come to understand about the USPS already, it is not all black and white. If you pass, the job is not at all promised to you!
Note: If you fail the exam, you have to wait 12 months before taking it again. If you passed but want to improve your score, you would have to wait 24 months.
The USPS ranks the candidates by their score. Once there is a job opening, they will go through the candidates by order. The higher you score, the higher you will be on the list.
But what is considered a good score? That depends. If you are applying for a job at a small branch, you have less competition, and the bar will be lower. If you apply for a bigger branch with more candidates for each position, and you would have to score MUCH higher.
Note: Your score can affect how long you wait for a job. Candidates with high scores can be called in for an interview after a week, while others can wait months. Very frustrating.
To play it safe, you better get a high score as high as possible. This will ensure you beat your competition, small branch or big, and get hired. Fast.
How to Get That High Score?
Be fast – the USPS knows exactly how long you spend on every question, and they even might score you accordingly! The more you practice, the faster you are. As simple as that.
Know what to expect – this exam is not your typical test, and the questions can be odd and confusing. The only way to get it right is to know exactly what question to expect. This is achieved by practicing over and over again until you can answer them in your sleep.
Emphasize the right traits for this job – use our full guide, written by experts, to know how to answer the personality questions.
How will our PrepPack help you with that?
---
How to Get the Most Out of the 477 USPS Practice Test and Guides?
Step 1: practice with questions that will look exactly like the ones you will get on the exam. Each question is accompanied by a solution and a full explanation.
Step 2: to get the personality assessment right, use the experts' guides. It is filled with tips and strategies to do it the right way.
Step 3: practice even more with a question bank for all sections of the exam. This will give you the extra push to score higher than other candidates.
---
What Happens Once You Submit the Postal Exam 477?
After you submit the exam, the status in your USPS candidate profile online will be updated:
In Process – you have submitted the test but did not get a score yet.
Ineligible – you did not pass the assessment (you scored below 70).
Eligible – you passed the assessment and now waiting for updates.
Pre-Hire – the USPS is interested in you and will send you an invitation for an interview.
If everything goes smoothly, you will be called in for an interview (if you get a really high score, you might skip this step). Once you've passed that, you're Hired!
---
FAQ
I heard that to get this job, I have to take the 473 test. Has it changed?
Yes, it has changed! The USPS has NOT use the 473 test since April 2019. Instead, there are four new exams, for different job applicants. Beware, there are many websites out there offering "2020 updated" preparation for the 473 test. There is no such thing. The only updated versions are the new tests.

The USPS wants me to answer honestly. Should I answer what I really think?
Well, it is a bit tricky. Every person has a few personas. When you are at home with your family you are a different person than when you are at work. And you would act differently when you hang with your friends or when in the middle of your workday.
When you are applying for a job, it is better to present your work persona, and leave the everyday persona at home. All the personas are a part of you. Even if you only present

Are there right and wrong answers? How is my personality being scored?
The USPS does not score your personality itself, but your personality as it relates for this specific job. In that sense, the right answers will emphasize the traits that are needed for the Customer Service Clerk job.

If 70 is the passing score, why should I work hard and score higher than that?
Getting a high score is important! The higher your score, the faster you'll be invited for an interview. If you score really high, they might offer you the job without even coming in for an interview.
 Are you applying for other jobs at the USPS? Try looking here:
USPS and other trademarks are the property of their respective trademark holders. None of the trademark holders are affiliated with JobTestPrep or this website.