What Is the Virtual Entry Assessment MH 475?
The Virtual Entry Assessment MH 475 is an exam that anyone who wishes to become a USPS Mail Handler has to pass. It is one of the four new USPS assessments used since April 2019, following the retirement of the old 473 exam. As of October 2021, two new sections were added to the assessment.
You have only 72 hours to complete the test from the moment you received the invitation email.
Watch this short video to get some useful tips and insights on the test: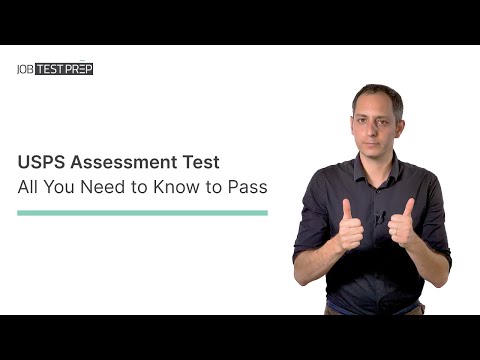 ---
What Does the Postal Exam 475 Consist of?
The Postal Exam 475, also named the Mail Handler Test, consists of six sections.
Two of the sections are brand new and were added only in late 2021. JobTestPrep is the only site that offers accurate practice for these additional new sections.
Here's a breakdown of the assessment:
| | |
| --- | --- |
| Section Name | Number of Questions |
| Work Scenarios | 18 |
| Check for Errors | 3 |
| Move the Mail | 18 |
| What Drives You | 25 |
| Tell Us Your Story | 40 |
| Describe Your Approach | 139 |
Let's expand on each of the test sections a little bit:
Work Situations – In this section, you'll get a feel for the types of situations regularly encountered by Mail Handlers and choose how you would respond to them.
Check for Errors – In this part, you'll get to verify information in a manner similar to what is done on the job.
Move the Mail: Measures your ability to notice details to sort packages and letters correctly.
What Drives You: A motivation test that is designed to reveal what fulfills you in your workplace. Each question is meant to assess the level you relate to two different sources of motivation.
Tell Us Your Story – In this section, which is a Biodata questionnaire, you'll answer questions about your background and work experiences.
Describe Your Approach – A personality test designed to assess your unique work style, teamwork and management habits, and occupational approach.
Virtual Entry Assessment MH 475 Sample Question
The following is a Check for Errors sample question (taken from the complete PrepPack™). Give it a try:
Did you manage to spot the matching and unmatching IDs?
Here are some useful tips to help you answer such questions quickly and accurately.
---
How to Pass the Postal Exam 475 (and Get an Interview ASAP)?
The passing score for the Mail Handler Exam, as with all the USPS VAE exams, is quite high.
You have to score at least 70 out of 100 points to move to the next hiring stage. If you fail to reach this score, you'll immediately get an ineligible status. The result is disqualification from retaking the test for a full year.
In addition to the passing score, there's another crucial point to consider:
The USPS ranks each of its candidates based on their score, and these rankings affect how fast one is going to get an interview.
In short, it means that a candidate who scored 80 will be placed ahead of someone who got 70, and the former will likely get invited for an interview much faster.
To surpass the minimal passing score, you have to master every question type on the test, including tricky personality and situational judgment test (SJT) questions.
Here's an example of a 'Work Scenarios' question that highly resembles questions you'll face on the real USPS 475 Exam:
A new coworker is assigned to the station next to yours. You can see that he is making a number of mistakes and falling behind.
What would you be most and least likely to do?
1. Suggest that he reach out to his supervisor and request more training.
2. Take note of specific mistakes he is making and offer him pointers on how he could be more accurate.
3. Avoid getting involved. His supervisor will be around to check soon and will offer additional training if needed.
4. Offer to take a portion of his work until he catches up to speed. You have more experience and can get a lot more done than he can.
These practice questions are designed to help you familiarize yourself with every question type that appears on the real exam. Moreover, the solutions to the questions (provided in the pack) will help you understand the logic behind each question and enable you to choose the best answer every time.
---
What JobTestPrep's Customers Say About the PrepPacks:
Henry Commager, US
Verified Reviewer
⭐⭐⭐⭐⭐
"I am applied for at least four positions at the US post office; holiday clerk assistant, casual clerk position, assistant city carrier, and a mail processing clerk. With the help of the JobTestPrep's test preparation, I passed the 474 with a 73%, 475 with a 77%, and the 476 with a 79%. The practice scenarios helped me to consider the whole environment of the workplace at the post office, including customers and co-workers, the production goals, and formulate good decisions. I recommend this assessment test to anyone who wants to take the test for US post office. "
Mariam Noujaim, US
"I just passed the Post Office exam 474 with a score of 90 from the first time I took the test.. I could not have done it without the course Prep I purchased from JOBTESTPREP. It is worth every penny I paid. Easy to understand, very well organized, plenty of similar questions and scenarios that were asked in the real 474 test. I ' d recommend to purchase the 90 days package ($89) and take more tests for other positions. You might as well benefit the most out of your investment. While waiting to get hired, I am taking the 476 test and have no doubt that I will get as good of a score (maybe better) than 90 with the preparation with JobTestPrep. I was so worried to take the test (474) now not only am I very proud of my grade 90, I am also taking another test 476."
Carl R., US
"First, I definitely recommend this product. My other feedback would be to take the practice tests as often as you can before you apply for the position because once you apply, you have to take the 474 Exam within 3 days. I had no prior experience with postal service exams and thought it would be good to practice. The practice questions themselves were eye-opening in terms of what to expect from the real exam. The Personality Practice and the Work Scenario tests were challenging and really helped me think about my answers in terms of what the employer was looking for. My exam score was 90%. I received several conditional offers and was eventually hired. I strongly believe that JobTestPrep was instrumental to my success on the USPS Exam 474."
---
Virtual Entry Assessment MH 475 FAQ
What Is a Mail Handler VEA?
The Mail Handler VEA is the Virtual Entry Assessment - MH (475) for Mail Handlers and is one of the four new exams the USPS uses since April 2019. Each VEA applies to a different set of USPS roles, when the MH 475 is used to screen candidates for various Mail Handler positions.

What Does a Mail Handler Do?
Mail Handlers are responsible for activities such as moving mail and packages to and from sorting machines, onto conveyor belts, and on and off trucks. Some Mail Handlers are trained to operate large machines or may earn special certification as forklift operators.

Is It Hard Being a Mail Handler?
The Mail Handler role is very physical and requires you to be on your feet for the entire shift. As a Mail Handler, you'll move packages and bags of mail that could weigh up to 70 pounds, and push carts weighing up to 1500 pounds. Additionally, the work can be fast-paced, stressful, and repetitive, with tight deadlines especially during busy mailing seasons.

What Is a Good Score on the USPS Assessment 475?
The passing score for the USPS Virtual Entry Assessment 475 is a 70, and any score above that is considered good. Yet, the higher you score, the higher your chances to get an interview invitation as soon as possible.

How Do You Become a USPS Mail Handler?
To become a Mail Handler at USPS, you must be 18 years old, have a U.S. citizenship, pass the Virtual Entry Assessment – MH (475), and go through a background check. Additionally, you must be able to handle mail and parcels weighing up to 70 pounds.
Are you applying for other jobs at the USPS? Try looking here:
USPS and other trademarks are the property of their respective trademark holders. None of the trademark holders are affiliated with JobTestPrep or this website.