This page will help you prepare for the Pipefitter test. It includes a detailed guide and free pipefitter test questions and answers. Let's begin.
---
What is the Pipefitter Test?
The pipefitter is a screening test used by local unions in the U.S and Canada to screen candidates who want to be accepted to a union apprentice program.
The screening test used by unions in the US is different from those administered to apprenticeship applicants in Canada.
These programs are designed to help candidates become familiar with safety codes and regulations of the field.
As part of the apprenticeship program, apprentices study mathematics, applied physics, and chemistry. In most cases, apprentices enter directly into a program, but others may begin as helpers.
---
Pipefitter Practice Test With Answers

Pipefitter Math Test Question
You can find more pipefitter practice math tests with answers in the JobTestPrep preparation.

Pipefitter Mechanical Test Question
2. A canister containing oxygen gas at room temperature (25°C) has a pressure gauge attached. If we connect the canister to an identical but empty canister, what would the pressure gauge show?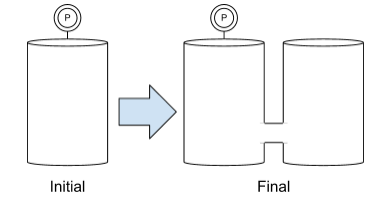 A. Pressure increase.
B. Pressure decrease.
C. Pressure unchanged. 
D. Cannot say.
Go to the following page to practice more Pipefitter test questions and answers.
---
Pipefitter Test Online Preparation
The Pipefitter pre-apprenticeship exam study guides will familiarize you with the exam's subjects, while our practice tests coupled with Q&A analysis will provide you with the logic behind the correct answers.
JobTestPrep provides all of the essential tools for a successful exam experience. We offer online practice tests, answer explanations, and study guides all geared towards helping you get the job.
---
Common Pipefitter\Steamfitter Aptitude Test Requirments
Most of the local unions in the United States and Canada require:
Submitting an application form.
Birth certificate\Drivers license.
High school diploma\GED.
Passing a physical examination.
Good level of understanding of English Comprehension, Math, and Science.
 
U.S. Pre-Apprenticeship Pipefitter Test
The pass threshold in most locales pipefitter trade tests is 75%.
You can expect to encounter four basic topics on the pre-apprenticeship exam:
Reading Comprehension – While the question formats vary depending on the specific locale, the fundamental purpose of this test section is the assessment that tests your ability to understand what you are reading. If you have applied to become a pipefitter in Modesto, California, you will be given 15 minutes to read a five-page article, after which you'll be required to answer 20 True/False questions from memory.
Figure Visualization (Spatial Reasoning) – The task involved in this section is the identification of a given object after it has been repositioned or folded. Expect multiple-choice questions.
Mechanical Ability - This test may be the Bennett Mechanical aptitude exam, or alternatively a test that includes illustrations followed by questions on leverage, area, and the directional movement of gears.
Canadian Pre-Apprenticeship Pipefitter Test
You will be given a standardized multiple-choice test, which must be completed within three hours. The scoring is based solely on the number of correct answers. Since there is no penalty for wrong answers, it is to your benefit to answer every question, and guess if necessary.
The three primary topics covered in the entrance exam consist of:
Math - Math is by far the most extensive element of the pipefitter exam. Some of the concepts presented in the eight-section math portion of the entrance exam include exponents, fractions, decimals, ratios, square roots, estimation, rates, percentages, word problems, proportions, patterns & graphs, equations, inequalities, measurement of space and shapes, trigonometric ratios and transformations of geometric patterns.
Science – This section of the exam is comprised of various science topics which pipefitters must apply daily, such as: Physics, electricity, energy, electromechanical systems, motion, force, gravity, mass, structural design, material properties, machine dynamics, temperature & heat, fluids & pressure, optics & light.
Reading Comprehension – Expect a passage-oriented section. Your tasks involve the identification of facts and concepts, application and analysis of concepts, and conclusions all based solely upon the information contained in the accompanying passage.
Feel free to contact us if you have any further questions about the Canada Pipefitter exam or the tests below.
---
NCCER Pipefitter Test vs Pipefitter Entrance Exam
The main difference between the two exams is that the NCCER curriculum consists of questions for people who are already enlisted in an apprenticeship.
Pipefitter NCCER includes questions broken down into levels 1-4. Level one includes questions such as Pipefitting Hand Tools, Pipefitting Power Tools, Low-Pressure Pipe Systems, etc. The NCCER Pipefitter test is a closed-book assessment.
The Pipefitter entrance exam on the other hand is a pre-apprentice screening exam that tries to assess whether the candidate has the minimal required skills to be able to complete the apprenticeship successfully. It's usually done by local unions in the U.S. and Canada.
Union Pipefitter Tests Examples
Here are some examples of places that use union pipefitter tests
UA Local 597: Chicago Pipefitters.
UA Local 393: California Pipefitters.
UA Local 420: Philadelphia Pipefitters.
UA Local 170: Vancouver Pipefitters.
You can find your local union and its apprenticeship requirements in both Canada and the U.S in the following page.

In addition to NCCER, JobTestPrep preparation does not cover the following pipefitter exams:

Journeyman Pipefitter Test 
This is a pipefitter certification test for a license that allows the holder to perform pipefitting work. Its prerequisite is 6,000 hours as an apprentice pipefitter.

Red Seal Exams
The goal of the Red Seal exam is to test your overall experience and understanding of Steamfitter/Pipefitter work.

ITA Pipefitter Test
ITA exams test the candidate's understanding of tools and handling pipe work-related situations.
---
 Studying for the Pipefitter Assessment
A passing score on the Pipefitter test is essential if you are applying for an apprenticeship in pipefitting.
To make sure you are prepared for the assessment, it is a good idea to spend some time preparing beforehand. 
Here are some tips that can help you out:
FAQs
Helpful Links
NCCER and other trademarks are the property of their respective trademark holders. None of the trademark holders are affiliated with JobTestPrep or this website.